Icarus Drop New Track: Man Of The Land feat. Real Lies
2nd Single From Their Forthcoming EP: This Must Be The Place - out November 30th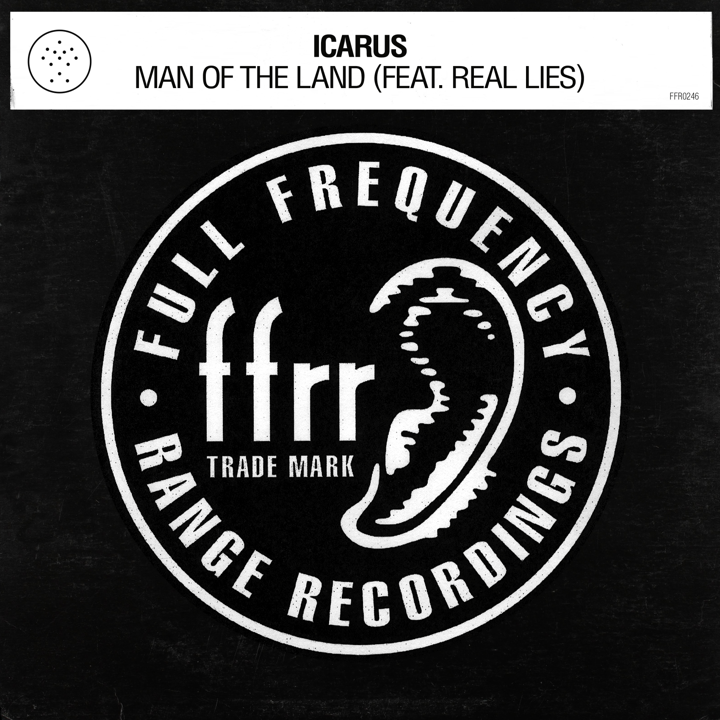 Stream 'Man Of The Land feat. Real Lies' HERE
Fresh from releasing their latest track 'Echoes' which hit #3 on the BBC Radio 1 Dance Chart, Bristol's innovative crossover production duo Icarus have teamed up with London trio Real Lies for their new single 'Man of the Land'.
Both 'Man of the Land' and 'Echoes' feature on Icarus's new EP 'This Must Be The Place' which follows on November 30th. The EP represents Icarus's latest longer form conceptual project after releasing the 'In The Dark' EP earlier this year.
'Man of the Land' represents the darker, cinematic extreme of Icarus's sonic spectrum. The hypnotic beat captures the feeling of pounding the city streets late at night before the drop accentuates its dramatic feel. It's a track which finds Icarus strengthening the evocative atmospheric qualities of past tracks such as 'No Sleep' and 'Hiding'.
Real Lies' lyrics delve into the experiences of a transient character whose solitary life on the capital's empty streets is set against the contrast of its hectic late night bars. It captures a feeling of urban anxiety that could only be nocturnal London. As the song's narrator notes, "I come from Cally Road, not California."
Widely praised for their self-titled debut album, Noisey summarised Real Lies' approach by stating, "Although an echo chamber of past influences mixed with the contemporary ambience of Burial or Jamie xx, their defining factor is the thoroughly modern ennui that infects their lyrics."
Icarus explain the EP's concept: "The theme of this EP is based around always moving from one place to the next, or running away – as well as the thoughts, feelings and emotions which come from living this way. There are moments of feeling free from being tied down and having endless possibilities. But there's also a loneliness and anxiety that comes from simply moving on rather than addressing your problems. It's not about making a judgment on people who are in that situation, it's just an exploration of a yin-and-yang lifestyle."
Since debuting in 2015 with the 'Don't Cry Wolf' EP, ICARUS have progressed from being a hotly-tipped name to become a regular fixture on daytime radio. Annie Mac has been a long-term admirer, not only picking four consecutive singles as her Hottest Record ('Love Has Come Around','King Kong', 'Trouble' and 'No Sleep') but also booking them for her Lost & Found Festival.
ICARUS's other radio highlights include a sun-scorched set at Radio 1 Live in Ibiza and contributing an Essential Mix for Pete Tong. In addition to Annie Mac, their other supporters at radio have included Pete Tong, Phil Taggart, Danny Howard, MistaJam, Monki and Alice Levine. Their wide-ranging list of fans also includes Pendulum, who invited them to remix their classic track 'Tarantula' from their all-star collabs album 'The Reworks'.
Earlier this year, ICARUS debuted their full live band show which they then took on a headline tour and then to the South West Four Weekender. They're now poised to hit the road with Rüfüs Du Sol on their 'Solace' tour: first with a run of North American shows which culminates with three nights at New York's Terminal 5. Full upcoming tour dates:
November 1st - The Shrine - Los Angeles, CA
November 2nd - The Shrine - Los Angeles, CA
November 3rd - The Shrine - Los Angeles, CA
November 9th - The Complex - Salt Lake City
November 13th - First Avenue - Minneapolis, MN
November 14th - Aragon Ballroom - Chicago, IL
November 15th - Royal Oak - Detroit, MI
November 16th - The Danforth - Toronto, Canada
November 18th - MTELUS – Montreal, Canada
November 20th - House of Blues – Boston, MA
November 21st - House of Blues – Boston, MA
November 23rd - Terminal 5 - New York City, NY
​November 24th - Terminal 5 - New York City, NY
​November 25th - Terminal 5 - New York City, NY
November 29th - Printworks – London, UK
November 30th - The Mill – Birmingham, UK
December 1st - Queen Margaret Union – Glasgow, UK
December 2nd - Academy 2 – Manchester, UK